Filmmaker Anne Flatté, based in San Francisco, directed Symphony for Nature for Owsley Brown Presents. Flatté has produced, directed and edited on many independent documentaries, and has focused on music-related subjects over the last fifteen years. She is director/producer of the original web series Music Makes A City NOW, and producer of Serenade for Haiti (Serenad pou Ayiti), directed by Owsley Brown. She co-produced and edited Music Makes A City, (Directed by Owsley Brown III and Jerome Hiler), and produced the TV version for PBS broadcast in 2014.
Owsley Brown III was born and raised in Louisville, Kentucky. He is a documentary filmmaker whose directorial debut, Night Waltz: The Music of Paul Bowles, about the American writer and composer, Paul Bowles, won the Independent Spirit Award in 2000, the Hamptons International Film Festival 1999 Jury Award for Best Documentary Feature Film, and selection by the Berlin International Film Festival in 2000. His critically acclaimed second film, Music Makes A City, chronicled the commissioning project of the Louisville Orchestra in the 1950's. Music Makes A City was awarded Britain's Gramophone Award for Best DVD Documentary in 2012, and had its U.S. television broadcast premiere in January, 2014, on PBS stations nationwide. Owsley also co-produced the landmark documentary feature Marina Abramović: The Artist is Present, (Directed by Jeff Dupre and Matthew Akers) which won the Panorama Audience Award at the Berlin International Film Festival, a Grand Jury Prize nomination at the Sundance Film Festival, and a Peabody Award in 2012. Owsley's third feature film as director and executive producer is Serenade for Haiti (Serenad pou Ayiti), a seven-year study of Haiti told through the perspective of the students and teachers of the Holy Trinity Music School in Port-au-Prince. He is a host and producer of the Festival of Faiths, a founding board member of the Kentucky School of Art and an advisor to Louisville Mayor Greg Fischer on his Compassionate Schools Project. Owsley is also on the boards of the Sustainable Food Alliance, Center for Interfaith Relations and Roxie Theater in San Francisco.
Crater Lake National Park is in the Cascade Mountains of southern Oregon. It's known for its namesake Crater Lake, formed by the now-collapsed volcano, Mount Mazama. Wizard Island is a cinder cone near the western edge of the lake. The Rim Drive, a road surrounding the lake, offers views of the park's volcanic formations. The park's numerous trails include Sun Notch, with views of the Phantom Ship, a small island.
Britt Music & Arts Festival, a non-profit organization, is the Pacific Northwest's premier outdoor summer performing arts festival. Located in the historic 1850s gold rush town of Jacksonville, Oregon (USA), Britt presents dozens of summer concerts, featuring world-class artists in classical music, jazz, blues, folk, bluegrass, world, pop and country music. Britt's performance venue is a naturally formed amphitheater set among majestic ponderosa pines and native madrones on the beautiful hillside estate of 19th century photographer Peter Britt. Oregon's only National Park, Crater Lake, is a scenic two-hour drive from Britt. Founded in 1963, the Britt Orchestra Season features a professional orchestra of 90 musicians who come from all over the United States for a three-week stay in southern Oregon. Internationally renowned guest artists join the orchestra each August to present a series of extraordinary concerts under a canopy of stars. Each season includes seven orchestral concerts, plus children's concerts, chamber music events and receptions.
Michael Gordon is an American composer and co-founder of the Bang on a Can festival and ensemble. His music merges subtle rhythmic invention with incredible power, embodying, in the words of The New Yorker's Alex Ross, "the fury of punk rock, the nervous brilliance of free jazz and the intransigence of classical modernism." Over the past 25 years, Gordon has produced a strikingly diverse body of work, ranging from large-scale pieces for high-energy ensembles and major orchestral commissions to works conceived specifically for the recording studio.
An unusually versatile musician, Teddy Abrams is a widely acclaimed conductor, as well as an established pianist, clarinetist, and composer. Music Director of the Louisville Orchestra and Music Director and Conductor of the Britt Classical Festival, he also serves as Resident Conductor of the MAV Symphony Orchestra in Budapest, which he first conducted in 2011. An accomplished pianist and clarinetist, Abrams has appeared as a soloist with a number of orchestras - including playing and conducting the Ravel Piano Concerto with the Jacksonville Symphony in fall 2013 - and has performed chamber music with the St. Petersburg String Quartet, Menahem Pressler, Gilbert Kalish, Time for Three and John Adams, in addition to annual appearances at the Olympic Music Festival. Dedicated to exploring new and engaging ways to communicate with a diverse range of audiences, Abrams co-founded the Sixth Floor Trio in 2008.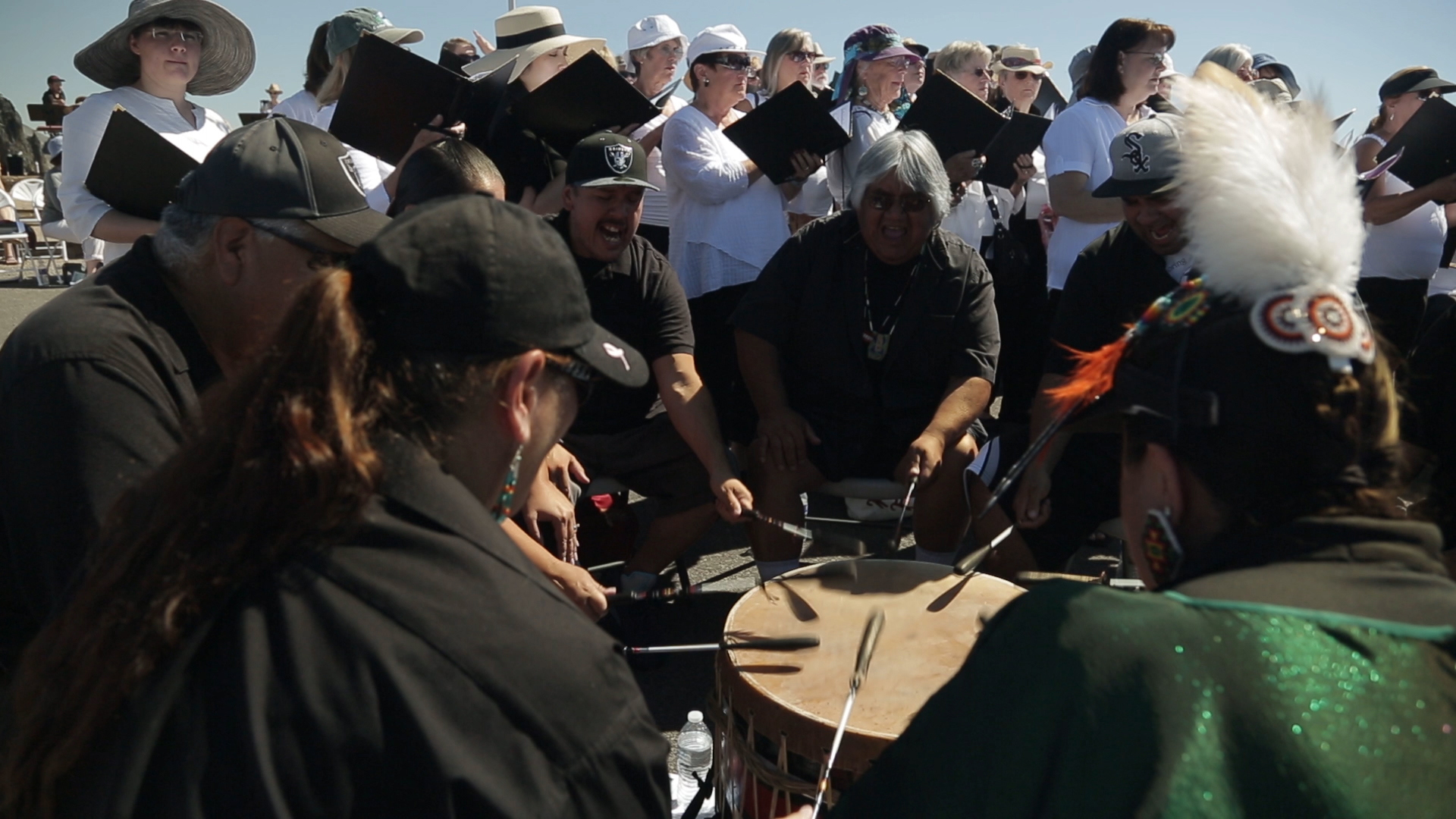 Natural History was performed by forty members of the Britt Orchestra, a chorus of fifty regional choristers, fifteen members of the drum group Steiger Butte Singers, whose members are all from the local Klamath Tribes, and thirty brass and percussionists from Southern Oregon University, and conducted by Britt Orchestra Music Director Teddy Abrams.